FEEL AT HOME, UNTIL YOU GET BACK HOME.
At Old Cheney, our entire team is committed to helping you with your recovery and getting you back where you belong. We know how difficult it is to be away from home, so we've designed our facility to feel like a retreat. Our clients will recover in comfortable, private suites, enjoy delicious meals prepared by our chef and be pampered in our on-site salon. Most importantly, our clients can expect to receive personalized care and one-on-one therapy to rebuild their strength and help them feel better. We only offer the very best to our clients.
The Care You Need to Get Better
The road to recovery is different for everyone. We offer a wide range of services, so we can provide the personalized treatment each patient needs.
• Physical Therapy
• Occupational Therapy
• Speech Therapy
• 24/7 Medical Care Provided by an  Experienced Team
• Nutrition Services
• Medication Management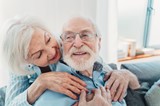 See it for Yourself!
Deciding on where to receive care while you or a loved one recovers from an injury, illness or surgery is a big decision. We invite you to come meet with our team and tour our facility to see if Old Cheney is the right fit for you and your family.
Set up a tour today by calling us at (531) 739-3200. When you call, please ask to speak with our admission nurse, Sue Lester, and our administrator, Christian Koenig.